Nasal implants are synthetic products that are placed in the nose to alter the size, shape, or overall structure of the nose. Implants are typically placed for two reasons- either to enhance the shape of the nose as an adjunct to rhinoplasty, or to improve the nasal airway by strengthening the nasal valve area (link to nasal valve). The materials used may vary but can be made of Medpore, Gortex, or may be silicone based.
The use of nasal implants has been common practice among many surgeons worldwide for decades. Cited benefits for implant use is the ease and convenience of using pre-made material that can be placed during a procedure. This may cut down on operating costs and time. Other surgeons believe that it provides predictable and reliable results during surgery. However, the reality is that although there are many benefits of using implants, patients must be informed with regards to potential complications associated with use of synthetic materials in the nose.
One of the major concerns with introducing foreign materials in the nose is the risk associated with infections and local reactions. If the material used in the nose becomes infected it may be very difficult to treat with antibiotics. Antibiotic treatments may not reach the grafted area in a high enough concentration to treat the infection. As a result, patients may be placed on antibiotics for prolonged periods of time, sometimes for months. Sometimes these antibiotics are administered through an IV, if oral antibiotics are not strong enough. Finally, even if the symptoms of an infection subside, the infections may not always be completely treated and patients may experience occasional flare ups requiring further treatment. The infections may also not develop right away. As long as there is foreign material in the nose, there is always the risk of an infection. This can occur 1 year after surgery, or 20 years after surgery. In my practice, I see patients that have developed an infection on average 11 years after the initial placement of the graft.
Often times if the infection cannot be adequately treated with antibiotics, the implant must be removed. This creates a dilemma for the surgeon and the patient. The implants typically have formed an integral part to the overall structure of the nose, and the infection is associated with severe scarring. Removing the implant is both difficult and may severely alter the shape and structure of the nose. Removal can compromise the appearance of the nose, and a person's ability to breathe. As a result, the graft must be replaced.
Many considerations must be taken into account prior to removal and replacement of a nasal implant. One consideration is the timing of the replacement and reconstruction. Some surgeons advocate for removal of the implant with a reconstruction using a different material at a secondary date. This reduces the risk of the new construct becoming infected, allowing the tissues to heal from the infection for a specific amount of time. Some surgeons may wait a few weeks, others may wait a year. The major disadvantage is that removing the implant may leave the nose "deformed" and unsightly for a long period of time. Other surgeons however may elect to reconstruct the nose in the same setting. Reconstructed materials may range from using new synthetic materials or to the use of rib or ear graft (link to rib graft). Overall, it is most advisable to avoid the use of new synthetic materials if you have already had an infection with a prior implant- so patients typically undergo rib and cartilage grafting to reconstruct the nose after implant removal.
It is important to recognize the long term risks of using synthetic materials in the nose. You should have an open and honest conversation with your surgeon to understand fully all the available options so that you can make an informed decision about your treatment plan.
Dr. Mourad's Approach: A Patient Story
The following is a 39 year old female that had a rhinoplasty 17 years prior to seeing Dr. Mourad. During that surgery a synthetic implant was placed. This implant was used to make a "new bridge" of the nose. About 1 year prior to seeing Dr. Mourad, she developed pain, swelling, redness, and drainage around her nasal bridge. She sought treatment from multiple plastic surgeons. She was placed on multiple courses of antibiotics for several months with no resolution. She continued to have discomfort, pain, and swelling in the area. She returned to her original surgeon who recommended implant removal, with definitive reconstruction at a secondary surgery 1 year after. This seemed like an unacceptable option to the patient.
Figure-1: The above photos show the patient when she presented to Dr. Mourad for evaluation. As you can see she has an infection on the side of her nasal bridge. She has tried to eradicate the infection with antibiotics for a full year prior to seeing Dr. Mourad.
She then sought an evaluation with Dr. Mourad. She was concerned with having the implant removed and the subsequent nasal deformity. Her original surgeon recommended delaying any reconstruction for a year. This would have significantly altered her appearance. Dr. Mourad then offered implant removal followed by immediate reconstruction using her own rib. Dr. Mourad is an expert in nasal reconstruction and rib harvest.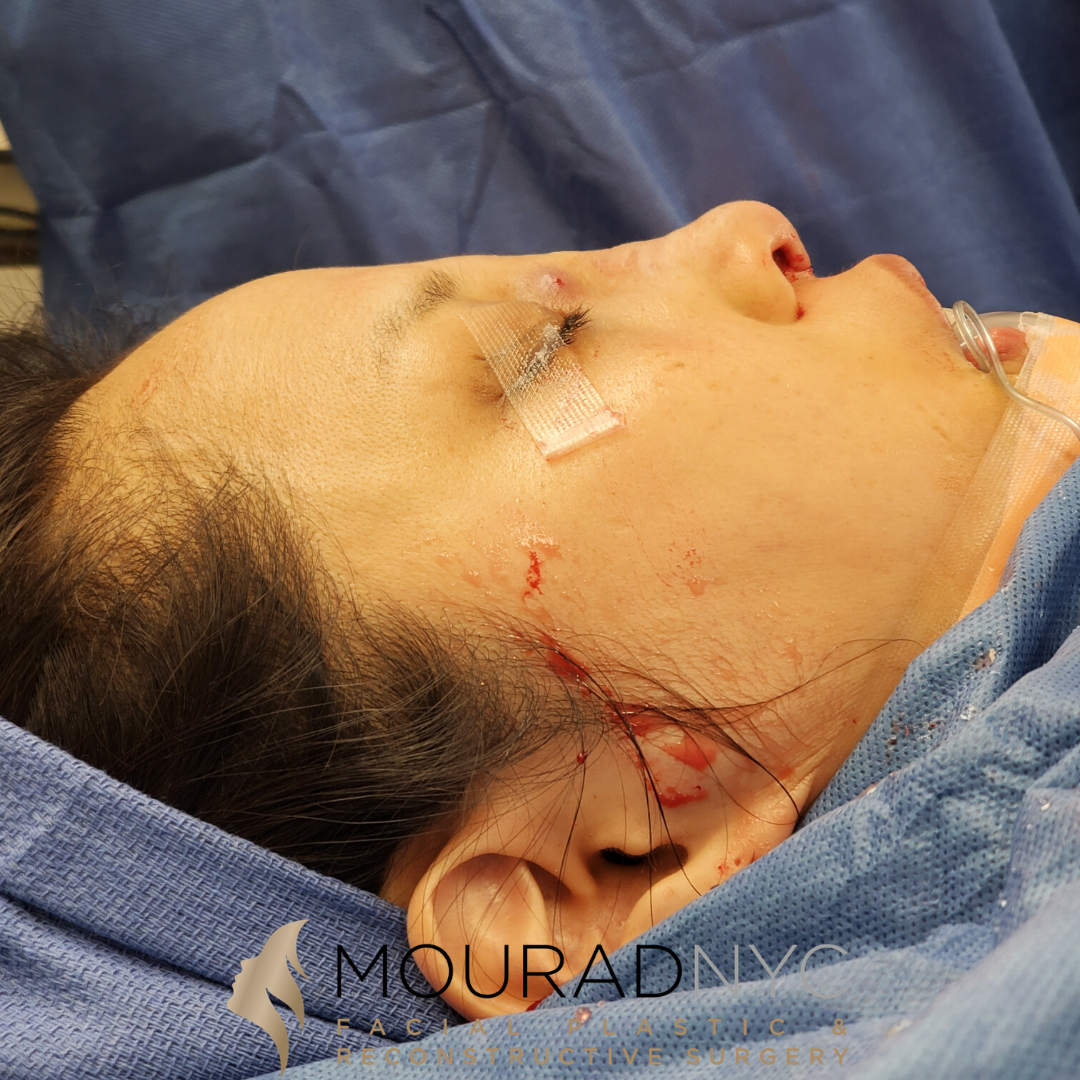 Figure-2: The above photo demonstrates what the patient looks like after implant removal. She has what is called a "saddle nose" deformity, in which she is missing her entire nasal bridge. Spending a year with this deformity would have been extremely difficult for the patient.
Figure-3: Dr. Mourad used a special minimally invasive technique to obtain grafting material to reconstruct her nose.
If you have an infected nasal implant from Medpore, Gortex, or a silicone base. Contact board-certified head and neck surgeon Dr. Moustafa Mourad.